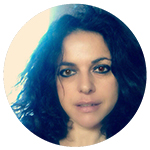 Simona Cresci is a curator, art critic and writer.
In 2010 Simona founded Associazione Culturale SF Art Working, with a lawyer: Federica Romano and, in March 2014, it became STUDIO ARTE 15.
Simona has curated exhibitions in public and private spaces in Italy and abroad, collaborating with museums, art foundations, and private galleries. Throughout her career she has published numerous original texts in exhibition catalogues and has written reviews for art magazines, including Flash Art, Arte e Critica and Il Giornale dell'Arte.
Simona lectures in Contemporary Visual Arts at the Istituto Superiore di Fotografia in Rome, where she is also Head of External Relations
Simona worked at the Alighiero Boetti Archive, collaborating on the first volume of the annotated catalogue and coordination of appraisal sessions, gaining valuable experience in artwork authenticity, which led her to register as technical consultant in the modern art specialist office at the trial court in Rome.
Motivated and passionate about her work, Simona received a Young Artists' Oscar in 2011, presented at the Campidoglio on the occasion of the "Giornata Europea", as a certificate of commendation for perseverance and recognition of the professional results obtained as a curator and art critic.
Simona Cresci holds a degree in Literature and Philosophy from the Department of Art History at La Sapienza University in Rome, and immediately specialized with internships and collaborations with Italian and foreign institutions.
Lover of sport, cooking, travel and literature, she is already working towards securing a bucolic future with her partner, surrounded by lovable fluffy creatures of all kinds, provided they are quadrupeds!
---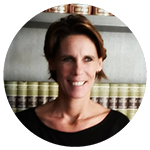 Federica Romano is a lawyer since 2007 with a great passion for art, has entirely dedicated her expertise to the arts sector, specializing in the field of copyright, and founding the Studio Arte 15 along with Simona Cresci.
The decision to combine their relevant expertise and professionalism into Studio Arte 15 fulfilled the dream of starting up an innovative and executive business for the promotion of contemporary art.
From 2000 to 2004 Federica was involved in the field of art and collaborated in the organization and setup of numerous arts events, handling artist selection and event promotion.
From 2005 to 2007 Federica worked as a consultant for an internationally renowned video artist, cultivating public and institutional relations.
Federica has assisted numerous clients, expounding legal counsel on copyright and extending her expertise to branding, design, privacy and legal issues related to new technologies. She prepares contracts for loan transfers and licencing for copyright, connected rights, brands, and patents as well as commercial contracts in general.
Federica assists clients in strategic decisions regarding protection of their activities.
She is an expert in guidance and managing acquisition decisions and investment in artworks in the fields of both private and public collections.
A lover of all art forms, she dreams of living in a large open space, furnished solely with books and artworks.
---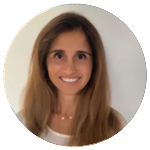 Letizia Bonanni is a freelance professional expert in Communication, Public Relations, Event organization and is specialized in the Hospitality sector.
After obtaining her MA in Law, she started her professional career in Communication and Business Development.  
She then handled the Business Management and development for several hospitality facilities thanks to her commercial, management and multitasking skills.
Specialized in the Luxury sector, she became the General Manager of important company until 2018.  Afterwards, passionate about contemporary art, she started her collaboration with Studio Arte 15, dealing with Communication and Business Development and Social Media Management, through the acquisition and sale of works of art and the setting of exhibition projects, contributing to the development and growth of a wide network of contacts.